Right Surveyors - Trafford
For Trafford RICS Qualifed Chartered Building Surveyors. Call 0161 403 1403 or Freephone 0800 880 6024
If you're in need of a survey on your new or existing property in the Trafford area, Right Surveyors Manchester Ltd are your local building surveyors and property experts on hand to meet all your property needs. We provide independent and impartial surveys and investment advice for a wide range of purposes, specialising in the RICS HomeBuyer Report and the RICS Full Building Survey. We assist private clients and commercial companies, residential buyers and property investors in the Trafford area by providing bespoke high worth services at cost-effective prices from trusted local building surveyors.
Overseeing our Trafford firm of Chartered Surveyors is Chris Newman FRICS. As a Fellow of the Royal Institution of Chartered Surveyors and with over 30 years of property surveying experience, Chris is a prominent member of the Chartered Surveying community. His ability to carry out a wide range of surveys, available under almost every budget, to such a high standard is a skill that many building surveyors strive to possess.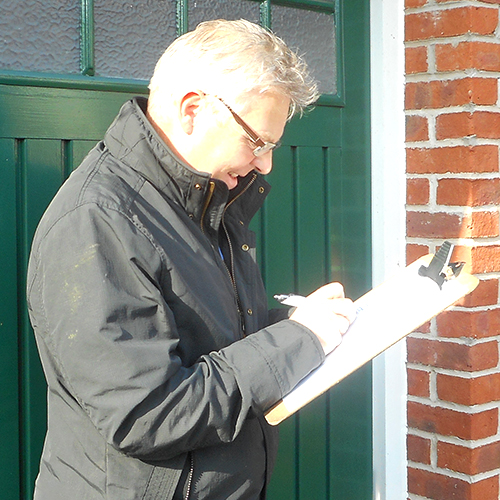 "As a local man, I have grown to know Trafford's property and the Trafford property market well, and it is this that allows me to carry out property surveys to the standard that I am able to today.
"In addition to the surveying services I undertake, the advice I can give on planning and extensions, neighborly disputes, boundary issues and the Party Wall Act have also proved worthwhile to my clients, aiding the smooth running of their property issues."
Building Surveys and Property Services from an experienced Local Trafford Surveyor
Commissioning our local Trafford Chartered Surveyors to survey your new or existing property is a vital step in providing a detailed list of maintenance requirements for the ongoing up-keep of your property. Once our building surveyors have visited the building, they will provide a full report outlining their findings.
Uncovering and dealing with structural defects early could save you a great deal of money in repairs, not to mention that finding unknown defects could be what you need to drive down the purchase price of a new property. All these could save you thousands, proving it to be a cost-effective solution to the care of your Trafford home.